...today would be the birthday of the following notables: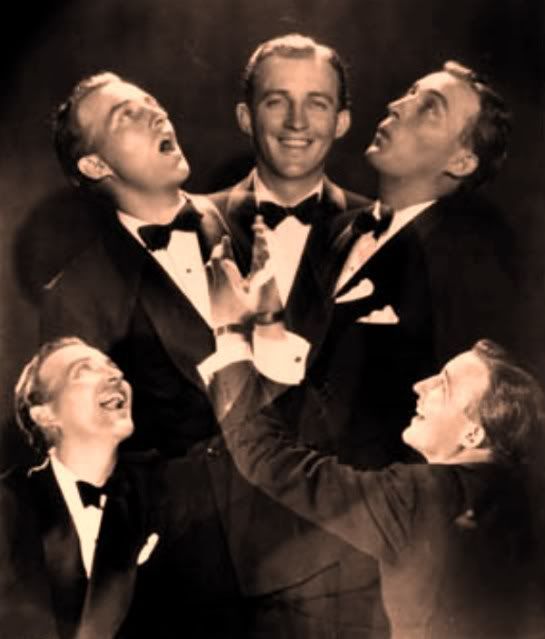 Bing Crosby would be 108. Along with Frank Sinatra and Bob Hope, he would likely be considered the "king" of show business of the 20th century. His popularity as a singer and actor was nearly unequalled. In fact, he was the #1 box office star from 1942 to 1948 (a record beaten only by Tom Cruise). It's "under-remembered" today what a groundbreaker he was. His style of singing was truly revolutionary when he began in the mid-1920's, and his sound and style were much copied by just about every other male singer who came along for the next 40 years (including Elvis Presley, who named Bing as one of his strongest influences)--and, in fact, he remains an influence on popular singing to this very day. He was awarded a Best Actor Oscar in 1944 for his performance in Going My Way. Here he is singing with his legendary vocal trio, The Rhythm Boys in 1930 (in a very rare use of Technicolor). They were the last word in "hot stuff" around that time!
Lorenz Hart would be 116. He was the first long-term collaborator with composer Richard Rodgers (preceding Oscar Hammerstein). His delicate, finely-crafted, heartbreakingly sensitive lyrics, some say, are among the finest lyrics ever composed in the English language. Despite his many songs of love and romance, tinged with a bittersweet sense of humor and irony, his greatest romance, it's said, was with the bottle--which hastened his demise, leading to his premature death at the age of 48. A few years ago, I was in the New York Public Library for the Performing Arts at Lincoln Center and was looking for "The Complete Lyrics of Lorenz Hart". I found the bound volume, which the library had mislabeled "The Complete Lyrics of Lorenzo Hart". Not lost on me was the irony that one of the greatest lyricists in American history---a man known for his perfection as a writer---had his name misspelled in the temple of knowledge of show business in America! I took the volume to the front desk and filed a large complaint, requesting this egregious error be corrected. I followed up a few months later...the "O" was gone.
Brian Aherne would be 109. He was the archetypical suave and handsome British leading man of the late 1930's. He was briefly married to actress Joan Fontaine in the 1940's (she, by the way, is still living, aged 93).
Hedda Hopper would be 126. The amount of power this woman held in Hollywood for about 30 years is almost incomprehensible today. Along with Louella Parsons, she reigned as a waspish, peevish and vindictive queen of gossip, with her nationally syndicated column that left the stars shaking in their shoes, in fear of her poisonous pen. Some of her methods of keeping the stars in check might now be known as extortion or even blackmail today. And there were certainly very few who mourned her passing--or the passing of the all-powerful Hollywood gossip columnist, period.